99% of the species that are sighted in the area are birds. All species are part of virgin and untouched landscapes that magically have been kept intact through time. Every birdwatching trip is unique and of special beauty, each destiny being completely different from the one visited before. We will search for the intimacy of unchanged enviroments rarely visited but choosen by many migratory birds as reproduction and nidification areas, where life´s rhythm are marked by the own nature and where many times schedules are subject to impredictable weather conditions.

Although awesome birds may be found along all the planet, the trick is to know how to find them.

Some locations attract so many birds or such a variety of interesting birds that they are known as "HOT SPOTS". The protected areas were we develop our trips are unique hot spots for birdwatching activities in the patagonian atlantic coast. Its main characteristics, is its high biodiversity concentrated in small areas, easily traveled, potentiated by the added value of the presence of species of restricted distribution like Cayenne Tern, endemics species like red-legged cormorant or colonies that are hard to reach like the rockhopper penguins colony. On top of this, sightings are incredible stunning due to its quality and closeness.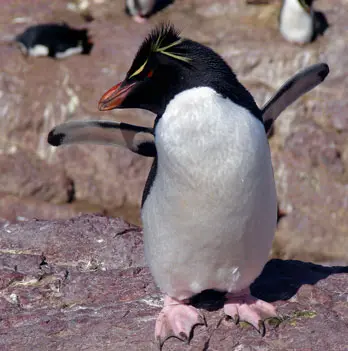 Our Main Objective...
As patagonians, is to provide safe, fun adventures enjoyed with small groups of people who share the same passion as one for nature.
Our Guides and Tour Leaders...
They are expert naturalists who appreciate the land where they live and enjoy sharing all their knowledge with people who are enthusiastic about nature and the outdoors.
Our Visitors…
Are of all ages and worldwide. Birdwatchers and birders that share their adventures´s appetite and their desire to know this región of the planet beyond the conventional established limits.
Characteristics
Sighting of a great diversity of birds.
Possibility to sight more tan 100 species between resident and migratory species.
77% of local birds use the inside waters of the river as feeding grounds.
Great variety of typical patagonian steppe birds. Possibility of high quality sightings that do not disturbe birds.
Most species are easily sighted and identified.
We abide international sightings recomendations for responsable close up encounters to the different birds species, within the principles of sustainable development.
We promote birdwatchers´s ethics principles.
We focus in having a complete nature adventure, with selected guides providing historical and cultural information about the Patagonia´s region
We contribute to local marine research and conservation projects.

We collaborate with non-governmental organizations that develop research and conservation projects for Argentine birds.

We are founding partners of Puerto Deseado´s local birdwatching club.